Every party ends up in the kitchen! Cooking a delicious meal together is the best way to enjoy your friends and family. The joy of preparing and sharing a fabulous meal is the primary focus at a COOK EASE cooking party.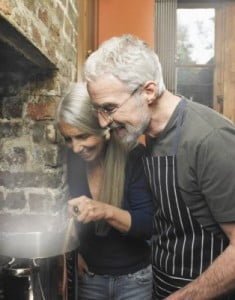 Let COOK EASE turn a cooking lesson into a unique culinary experience. Entertain your guests in your home or in a professional kitchen. Marla will share her passion for good food and creating kitchen memories, as well as expert techniques and secret tricks as she directs the hands-on cooking adventure for groups from ten to 50.
Each COOK EASE event is custom designed to exceed your expectations, please your palate and accommodate your budget. Call COOK EASE to begin planning your perfect culinary celebration.
CELEBRATE WITH COOK EASE:
Birthday Parties
Anniversary Celebrations
Bridal/baby Showers
Holiday gatherings
Bachelorette parties
Family Reunions
Parent and teen events
Children's parties
Dear Marla,
"Many thanks again for all of your wonderful help and delicious food. The party turned out great! I will be sure to recommend you to anyone looking for a caterer! "
Warm regards,
A. Georgill