Thank you so much for an amazing time yesterday everyone was raving about you and loved the meal.
You gave my husband a great birthday lunch in April. One of the family members, Joe's grandson - Steve, has been transformed by the experience. He suddenly has started to cook and not just anything: he started with the menus from that lunch and has gone on to chicken marsala and a fabulous apple cake. These are the things I know of. That is quite an accomplishment - to turn a non cook into one. Thank you. Best regards:
Hi Marla, I just want to say what a wonderful job you did last night hosting my friends for dinner! You are such a gem and it was such a fun night! Everyone was raving about the food, experience, and YOU! We will definitely be back again soon. Best,
Marla was an amazing host and a wonderful instructor! She gave many useful tips and kept us engaged and laughing for the entire three hours. Our experience and meal were outstanding!
I. Williams from
Hi Marla, I finally got a chance to sit down to send you a big thanks for a great night! Nancy was so happy with what we did for her 60th and said it was perfect. We all loved the menu, the food and your apartment. I hope to do something with you again soon and will recommend you to others. Much thanks and have a Happy Passover!
Hi Marla
We want to thank you for the wonderful experience you gave to our family. The food was wonderful and atmosphere exquisite. It was a wonderful way to spend the day with family. Again, thank you so much.
Sincerely,
Hi Marla!
I have been meaning to write to you all week to say thank you so very much for Saturday. The food was a huge hit and everyone was full of compliments about how good everything tasted and the presentation. I hope that we are able to work together again in the future, and I definitely will share your name with people who are looking for a caterer!
All the best,
Hi Marla,
I know you're away but I wanted to send this email while it's on my mind. I just wanted to send you a quick thank you note. As I had mentioned during our first phone call, my mom had a really hard last year. We were excited to do something we knew she would enjoy and when our plans were cancelled this past Tuesday we were so disappointed that we wouldn't be able to do anything. I'm so grateful that I came across cook ease. I knew from our first phone conversation, when you didn't immediately turn me away, that something good could come from this, but the result far exceeded my expectations. First off, thank you for being so kind and generous. The fact that you were going to be away, but still offered to find someone to help us have this event last minute AND use your space meant a lot. Secondly, thank you for setting us up with Casey. Casey, as I'm sure you know, is nothing short of amazing. Not only was she a great leader and instructor to the baking (and helping us where we lacked), she was sweet, funny, generous, I can go on and on…Our family could be crazy and a hot mess at times, and she just meshed so well with us. She really made this event everything and more. My mom had so much fun, she (well, we all did) continued to talk about it during our dinner. Not only did we have lots of fun, but the desserts were absolutely delicious. My mom expressed how she can't wait to try some of the recipes on her own. I can't thank the two of you enough! Maybe one day we'll try the food! Anyhow, hope you had/have a great rest of the weekend! I've never wrote a yelp review, but I will be sure to do so 😊
Warm Regards,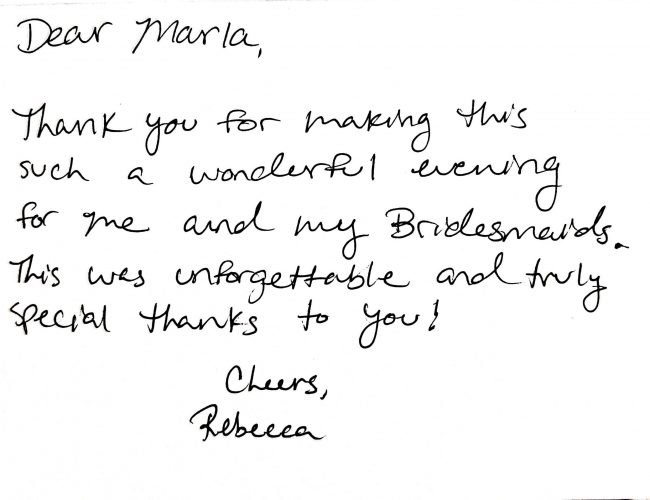 Hi Marla, Thank you again for last night's cooking lesson! We had an amazing time and learned so many new tricks. Can't wait to share with the family and cook these recipes.
Thank you Marla!  You're inviting home was the perfect setting for a get together doing something we all love - cooking and eating good food with goo friends.  You did a wonderful job as always.  It was so much fun and such a pleasure.  Thanks for allowing us to alter the time a bit
Hi Marla, I just wanted to let you know how much we enjoyed our Cook Ease experience last Thursday.  Chef Casey was amazing and we had so much fun with her.  Our team especially loved the warmth of your home and we're so grateful that you open it for our event.  I can't thank you enough for a truly wonderful experience.  Please tell Chef Casey "she was the best ever!"
I just wanted to thank you again for the amazing dinner last night. Everyone enjoyed the experience so much that they were talking about doing it again in a few months. It really brought the family together after what has been a very tough time because of my husband's health and it was nice to be able to forget for a night and just have a joyous celebration. I'm very glad that Adam found you and I hope that you were able to have fun as well.
Thank YOU so much for the great experience! We're all literally still talking about it. It was a treat to enjoy a great meal in your beautiful home, and also for the chance to learn from you and about your journey as a chef and entrepreneur. Since then, Pearce has ordered a pasta maker and made homemade pasta twice!
I just wanted to send a quick note to say Thank you again for a great event last week. My team enjoyed every moment of it and they are still talking about what a great experience it was. You and Casey made us all feel so welcomed and at ease! You have a beautiful home thank you for sharing it with us. I will be sure to pass on this experience to my colleagues who knows we may have another event in the future!
Hi Marla, Nina did have a great time. Everyone said the food was delicious and you were the sweetest!! I look forward to working with you again and meeting you this time! Happy Holidays
Hi Marla, Just wanted to let you know that our team had a wonderful time on Wednesday night. Everyone said it was the best event ever! Chefs Randi and Lee Ann were fabulous, very helpful with everyone and made the whole evening so enjoyable. I will spread the news to folks at Pearson about your service and we look forward to hopefully cooking with you again soon!
Hi Marla, All of the participants in today's cooking studio class went home inspired and eager to try out the recipes. I can't wait to make the delicious charoset. Jen and I appreciated all of the hard work that went into the prep. and clean-up for the class-please thank your "elves." Your teaching skills are both part of the reason for the outstanding reputation that King's deservedly has. Wishing you both a zissen Pesach.
Hi Marla: We just cannot sing your praises highly enough. You made the party run so smoothly and everyone gushed about how good of a time they had had. It was the perfect balance of active cooking and sharing a delicious meal with the family. You meshed with the group so well – it felt more like having another member of the family there instead of a professional chef! We thank you from the bottom of our hearts for everything you did to make the party such a success! It was the first anniversary party we had thrown for our parents and thanks to you, it will be a tough act for us to follow. We hope to work with you again one day and wish you all the best!
Hello Marla, Thank you for the fantastic evening me and my colleagues had at your house Saturday Feb 21! Sometimes one is surprised how well things work out without foreseeing this…! Cooking with you in your home was a great team-activity! You really showed role-modelling as a leader by introducing the overall objective, giving clear instructions, delegating, allow for trying out, giving energy, seeing the individuals – all in a friendly and warm but focused environment. By also sharing the small tips & tricks around cutting etc you gave value-add which is very professional and customer-oriented. Thanks for this great experience! I really hope to be able to bring new groups in the future. -Warm regards/Helena
My wife and I had an amazing time at Marla's cooking class! The space was beautiful, the food was delicious, and Marla was a great teacher and wonderful conversationalist. Marla was also very helpful in designing a healthy, yet delicious menu and teaching us some cool tricks.
My colleagues and I took a cooking class with Marla this past week as a team building event after a day of meetings. The Hoboken location is beautiful and easily accommodated our group of fifteen. We were patiently guided thru preparing a five course meal and enjoyed the camaraderie as well as the meal we prepared. We made fresh fettuccine as a team and then half the group prepared one type of sauce and half made their own creation and Marla was the judge of our dishes. It made for a lot of fun and at the end of the evening everyone left with printed out recipes, a bit more knowledge about cooking and an overall great experience. Highly recommended for a group of family, friends or colleagues looking for an enjoyable event. Thank you, Marla.
A letter of reference from Somerset Hills Learning Institute to Kaplan International: We held a team building experience with Marla at the Short Hills Cook Ease location in late August. Approximately 30 teaching and support staff members came together to enjoy each other company, work as a team, and participate in a bit of healthy competition. It was a wonderful event – so much fun while also collaborating as a team! Marla split the group into two teams. Within each of the two teams, we had 4 groups (I.e., one group worked on the appetizer, one on the first course, main course, and one on the side dish.) For the groupings we tailored them so that folks who don't normally work together had the opportunity to do so. This helped our staff get to know each other more broadly and across departments. Then, each set of groups from the two teams competed against each other for the best rendition of the dish (e.g. Appetizer vs. appetizer). While each group cooked, the others on the team cheered the group on and/or heckled the opposing team — great fun! At the end, we presented each dish to the judges and enjoyed the meal together. (Just a side note, my team's appetizer won!) Speaking as someone with only the most horrific set of cooking skills, I found the class instructive and very enjoyable. Although I went into the experience thinking it might be overwhelming, it was not. In fact, it was great to be supported in my skill development by my more skillful colleagues. Overall, it was a terrific experience and it brought us closer as a team to share in it. Please call me with any questions or to discuss Cook Ease further. All the best,
We booked a 13 person corporate team building cooking event with Marla and had a wonderful time. Many have said it's the best account team event we've done in the 5 years we've been together! Marla was a pleasure to work with and the recipes came out great. I can't recommend Marla and the cooking class enough!!
Our company had a team building event @ Marla's house. Marla was amazing to say the least!!!!!!!!!!!! Her hospitality and services are beyond what I expected. She was fun, knowledgeable and a master chef that made cooking look simple, fun and easy. Thank you Marla for the wonderful day that was filled with fun and great tasty delicious food. I hope to make each of the dishes you thought us and will cherish and frame your recipes forever. Marla you rock!!!!!!!!!!!!!!!!
Dear Marla, "Thank you for the outstanding cooking class on Saturday! We had such a wonderful time; you provided us with a great opportunity to joyfully learn new cooking skills and ideas while getting to know one another. I hope we can arrange for another class either in the spring (if our budget permits) – for certain I will be contacting you next fall. I'd love to make this an annual event!" Best,
Hi Marla, "I wanted to extend my thanks to you for a wonderful evening with my team last night. The meal was fantastic and you were a delight. I even learned some tricks. I will definitely refer you to my colleagues as well as my friends!" Thanks Again,
Marla, "I can't thank you enough for creating such a wonderful experience for my team – they were all blown away by the event, the organization, the outstanding kitchen and flat you live it, and the fabulous meal you orchestrated! It is NOT easy to direct an assertive group of leaders to work harmoniously and effectively – but you were truly amazing! I'm so very pleased with how my entire team responded to your direction and they truly enjoyed every moment! It was a HUGE Success! I hope to have another event with you in the future and will certainly recommend you to others. Have a wonderful weekend!"
Marla, "Thanks for all your help. Everything was great!"
Dear Marla, "Thank you so much for driving out and speaking to our moms about cooking healthy for kids. Our members have given me so many positive comments about your wonderful presentation and display."
Dear Marla, "Thank you so much for offering a fantastic cooking demonstration for our NJFN group. The food was delicious and we enjoyed all the extra tips for successful outcomes while cooking." Fondly,
Hi Marla – I wanted to share this with you because we probably would not have done it except that you granted Christopher's wish to make macarons on Day 5 of camp last year. Christopher's school will visit a Heifer Intl location in Massachusetts this year. As a summer project, they had to come up with a fundraiser, complete with "business plan" (ie not just asking mom, dad & grandparents for $). He decided to bake & sell macarons, following your recipe. We made our first delivery yesterday, 9 boxes of 6. About a 50% margin, could be better because we ended up using Trader Joe's almond meal instead of Red Mills. Another delivery date for the end of August and we have orders for at least 6 more boxes. So this will be a decent fundraiser for Heifer and school project. Best regards,